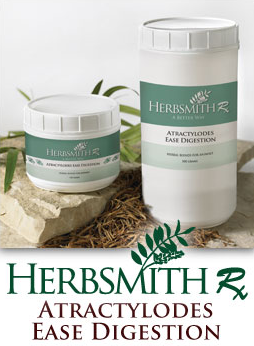 Herbsmith Atractylodes Ease Digestion improves digestion, prevents spasmodic gas colic and low-grade diarrhea and helps the mature horse thrive.
About
This blend harmonizes the digestive function from the stomach to the colon. By maximizing digestion the utilization of feeds will be greatest and therefore can be used to optimize health in the older horse. Improved digestion will decrease the production of gases, which can cause gas colic and utilize feed maximally to prevent diarrhea. Clinically this blend is used to prevent chronic spasmodic colic, low-grade diarrhea, and to maximally utilize feed in the older horse.
Available In:
500 g Powder
900 g Powder
1200 g Powder
Flax Plus 30 day supply
Flax Plus 60 day supply
Chinese Theory
Spleen and stomach function receives and transforms the eaten food into Qi or the vital energy of the body. Distribution of this process can lead to any number of gastrointestinal dysfunctions. The herbs in this blend improve the spleen's transporting functions, promote normal movement of Qi and harmonize the actions of the stomach. The spleen works optimally at transforming and transporting when dry so there are herbs added to dry dampness. Also herbs have been added to resolve food stagnation.
Suggested Use
(For the 1000 lb Horse)
Traditional Formulas: Administer two (2) tablespoons twice daily for the initial twenty dayst, then two (2) tablespoons daily thereafter. Note: In the event the horse refuses to eat herbs, start with small amounts in the grain until the horse is acquainted with the taste or try the Flax Plus version of this formula. Almost all horses will eat the herbs in their grain.
Flax Plus: Administer one (1) scoop twice daily for the initial twenty days. Then, administer one (1) scoop daily thereafter. Six tablespoon scoop included.
Precautions:Not to be used in pregnant mares.
Ingredients
Semen Zizyphi Spinosae – suan zao ren – Ziziphus Spinosa Seed
Rhizoma Atractylodis – cang zhu – Atractylodes rhizome
Cortex Magnoliae Officinalis – hou po – Magnolia bark
Pericarpium Citri Reticulatae – chen pi – Aged Tangerine peel
Rhizoma Zingiberis Officinalis – qan jiang – Dried ginger rhizome
Semen Raphani Sativa – lai fu zi – Radish Seed
Radix Glycyrrhizae Uralensis – gan cao – Licorice root
Inactive Ingredients (in Flax Plus only):Ground Flax Seed