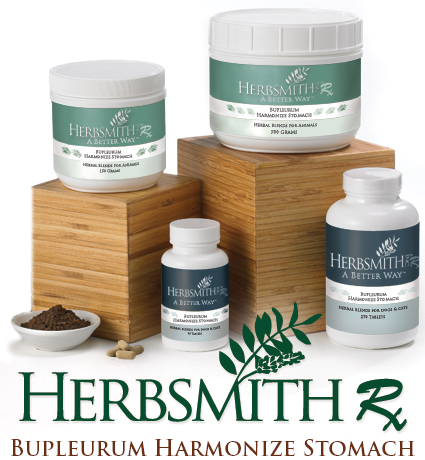 Herbsmith Bupleurum Harmonize Stomach aids in the management of vomiting, excess gas and poor or finicky digestion and, maintains proper gastrointestinal function.
About
Continuous or sporadic vomiting, especially when bile is present, gurgley noises from the abdomen and poor or picky appetite are all signs of a Chinese disharmony of the liver. Herbsmith Bupleurum Harmonize Stomach addresses the root cause of this finicky stomach by soothing the liver and helping stomach function improve.
Available In:
Powder
75 g Powder
150 g Powder
500 g Powder
900 g Powder
1200 g Powder
Tablets:
90 ct concentrated tablets (900 mg)
Chinese Theory
Liver Overacting on Spleen/Stomach is a common disharmony seen in dogs. Dogs could develop this disharmony for a number of reasons. The genetic propensity to develop a liver disharmony is seen in clinical practice daily. These dogs are often times high energy, high arousal, occasionally anxious, athletic and love to run. A previously balanced dog may develop this disharmony by exposure to toxins, high stress, frustrating situations, anesthesia, and commonly used pharmaceuticals. Once a liver disharmony develops, it will begin to affect the functions of the stomach resulting in the described symptoms.
Suggested Use
Powder
For Dogs:
<30 lbs……….½ tsp. twice a day, or as prescribed
30-80 lbs…….1 tsp. twice a day, or as prescribed
80-120 lbs…..1 ½ tsp. twice a day, or as prescribed
>120 lbs……..2 tsp. twice a day, or as prescribed
For Cats:
¼ tsp. twice a day, or as prescribed
Tablets
<10 lbs…….1/2 tablet twice daily, or as prescribed
11-30 lbs…..1 tablet twice daily, or as prescribed
31-50 lbs…..2 tablets twice daily, or as prescribed
51-80 lbs…..3 tablets twice daily, or as prescribed
>80 lbs……..4 tablets twice daily, or as prescribed
Herbal Bites
For Dogs and Cats: Administer 1 disc per 15 lbs. twice daily
Ingredients
Bupleurum (chai hu)
Angelica Tang Kuei (dang gui)
Peony Root (bai shao)
Atractylodes (bai zhu)
Mentha (bo he)
Ginger Rhizome (gan jiang)
Licorice Root (gan cao)
Poria (fu ling)
Inactive Ingredients in Herbal Bites Only: Duck