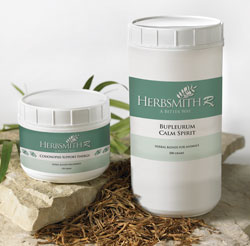 Herbsmith equine core formulas are available for veterinarians to purchase directly on our website. These unique blends are available as powders in 150, 500, 900, and 1200 g sizes. Scroll down to learn more or purchase any of our classic blends.

Flax Plus
Now our amazing formulas are available in a new, easy-to-administer option! We've combined our reliable herbal blends with the well-known benefits of flax!

Free veterinary consultations regarding any of our formulas or herbs are also available. To set up your free consultation with Dr. Chris Bessent, call 800.624.6429.