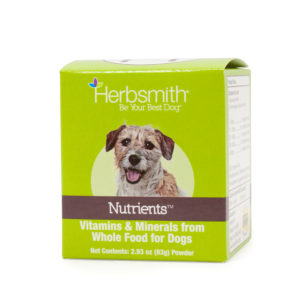 About
Herbsmith Nutrients is a highly-concentrated blend of nutrient-rich fruits and vegetables, known as 'superfood' geared towards a carnivore's needs. Broccoli, blueberries, pomegranate, spinach, sweet potatoes, cranberries, tomatoes, barley grass, and sea algae contain natural vitamins, minerals, and phytonutrients that are necessary for optimal health. We've mixed these ingredients with a freeze-dried turkey base for a palatable superfood that dogs will love!
Ingredients
Ingredients and Their Beneficial Phytochemicals
Blueberry Powder – Anthocyanin antioxidants
Cranberry Pieces – Polyphenols, proanthocyanidins, flavonols, and quercetin
Sweet Potato – Source of beta-carotene
Avocado Meal – Good oil – high in Omega-9
Spinach Powder – Rich in antioxidants, iron, calcium, vitamins, and minerals
Tomato Powder – High lycopene
Broccoli Powder – High levels of indole-3-carbinol
Barley Grass – Beta-carotene, B vitamins, minerals, and antioxidants
Pomegranate Powder – High in Vitamin C, Vitamin K, and polyphenols
Sea Algae Powder – High levels of vitamins, minerals, pigments, and good oils
Ingredients: Ground turkey, spinach, avocado, high lycopene tomato, sweet potatoes, bluberries, broccoli, barley grass, blue green algae, pomegranate, zinc proteinate, betaine anhydrous, iron proteinate, L-carnitine, Vitamine E supplement, calcium carbonate, niacin supplement, biotin, calcium pantothenate, riboflavin supplement, copper proteinate, manganese proteinate, pyridoxine hydrochloride, thiamine mononitrate, sodium selenite, Vitamin B12 supplement, Vitamin A supplement, Vitamin D3 supplement, calcium iodate
Directions for Use
Directions for use: Sprinkle over pet's food.
For Dogs:
<10 lbs………..4 shakes or ½ tsp per day
11-25 lbs……..4 – 8 shakes or ½ – 1 tsp per day
26-55 lbs……..8 – 16 shakes or 1 – 2 tsp per day
56-80 lbs……..2 – 3 tsp per day
81+ lbs………..4 tsp per day
For animal use only. This product is intended for intermittent or supplemental feeding only.
Available In
6.5 oz container
2.93 oz container