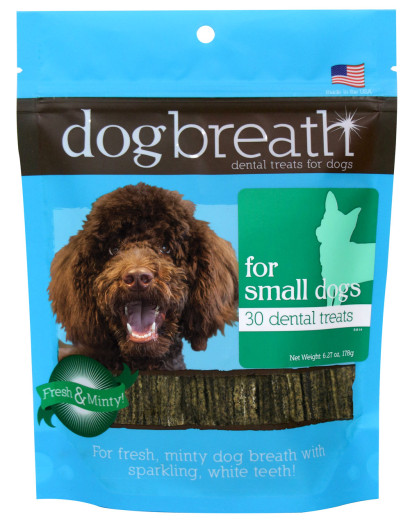 About
Introducing… a whole new way to address dog breath! For fresh, minty breath and pearly, white teeth, feed Herbsmith Dog Breath Dental Treats once a day. Dog Breath Dental Treats are made with spearmint, parsley, and sea algae to promote healthy teeth and fresh, minty breath in a fun-to-eat treat. Fresh breath and clean teeth for your patients just got easier! No brushing. No spraying. No struggle. Just a fun-to-eat treat!
Ingredients
Ingredients: Gelatin, vegetable glycerin, sea algae, spearmint, guar gum, sunflower lecithin, egg whites, pea fiber, vegetable oil, parsley
Directions for Use
Directions for use: Feed as a treat, once per day.
Available In
15 Dental Treats for Large Dogs (8.48 oz bags):
15 tasty treats for large dogs.
30 Dental Treats for Small Dogs (6.27 oz bags):
30 tasty treats for small dogs.