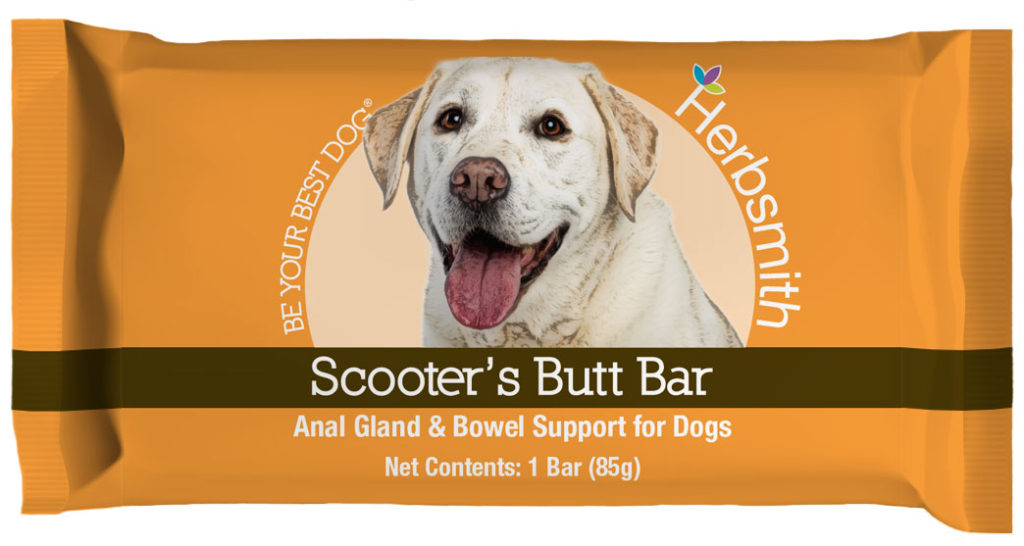 Overview
Scooting, soft stool, and intermittant diarrhea in dogs can be an indication of bowel issues. Supporting bowel and anal gland health is a big part of intestinal and digestive health as a whole.
With pumpkin, pumpkin seeds, pysllium husks, lentils, cinnamon, and diatomaceous earth, the Scooter's Butt Bar™ contains soluble fiber to help support anal gland, digestive, and bowel health.
For optimal digestive health, add Herbsmith Microflora Plus® for probiotics, prebiotics, digestive enzymes, and herbs.
Feeding Directions
< 15 lbs…………1 teaspoon twice a day
15-30 lbs……….1 Tablespoon twice a day
31-80 lbs……….1/4 bar twice a day
> 81 lbs…………1/2 bar twice a day
For animal use only. Keep out of the reach of children and animals. In case of accidental overdose, contact a health professional immediately.
Cautions:
If animal's condition worsens or does not improve, stop product administration and consult your veterinarian. Not for use within 48 hours of surgery or anesthesia.
Ingredients
Recommended to support anal gland, digestive, and bowel health in dogs.
Active Ingredients per Bar:
Proprietary blend of (pumpkin powder, pumpkin seed powder, pysllium husk, lentil powder, diatomaceous earth, cinnamon) – 4300 mg
Inactive Ingredients:
Vegetable glycerin, sunflower lecithin, maltodextrin, gelatin, fruit juice, natural grain dextrin, vegetable oil, sorbic acid