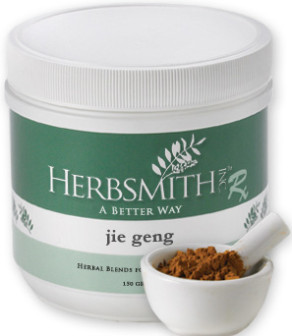 Herbsmith offers a number of single herbs to holistic veterinarians who have more knowledge of Chinese herbs, providing the convenience of a costly pharmacy without the large inventory and expense.

Single herbs are available in 150 and 500 gram bags to modify any of our pre-blended herbal formulas or to formulate custom blends.
Consultations Available
Herbsmith offers free veterinary consultation with Dr. Chris Bessent, holistic veterinarian and founder of Herbsmith, regarding any of the single herbs. If you are a veterinarian and would like to set up a consultation, call 800.624.6429.
| Pin Yin | Common Name | |
| --- | --- | --- |
| ba ji tian | Morinda root | call to order 800.624.6429 |
| bai bu | Stemona root | call to order 800.624.6429 |
| bai dou kou | White Cardamon fruit | call to order 800.624.6429 |
| bai he | Lily Bulb | call to order 800.624.6429 |
| bai hua she she cao | Heydyotis, Oldenlandia | call to order 800.624.6429 |
| bai shao (chao) | White Peony root (fried) | call to order 800.624.6429 |
| bai shao yao | White Peony root | call to order 800.624.6429 |
| bai tou weng | Chinese Anemone root, Pulsatilla, Anemone | call to order 800.624.6429 |
| bai xian pi | Dictamnus root bark | call to order 800.624.6429 |
| bai zhi | Angelica Dahurican root | call to order 800.624.6429 |
| bai zhu (chao) | Atactylodes rhizome (fried) | call to order 800.624.6429 |
| bai zhu | Atractylodes rhizome white | call to order 800.624.6429 |
| bai zi ren | Biota seed | call to order 800.624.6429 |
| ban lan gen (concentrated) | Isatis root | call to order 800.624.6429 |
| ban xia | Pinellia rhizome (processed) | call to order 800.624.6429 |
| ban zhi lian | Barbat skullcap / Scutellaria | call to order 800.624.6429 |
| bei sha shen | Adenophora / Glehnia root | call to order 800.624.6429 |
| bian dou | Dolichos seed | call to order 800.624.6429 |
| bian xu | Polygonum | call to order 800.624.6429 |
| bo he | Field Mint | call to order 800.624.6429 |
| bu gu zhi | Psoralea fruit | call to order 800.624.6429 |
| cang er zi | Cocklebur fruit / Xanthium | call to order 800.624.6429 |
| cang zhu | Atractylodes lancea rhizome | call to order 800.624.6429 |
| ce bai ye | Leafy twig of arborvitae / biota leaves | call to order 800.624.6429 |
| chai hu | Bupleurum root | call to order 800.624.6429 |
| chan tui | Cicada slough | call to order 800.624.6429 |
| che qian zi | Plantago / Plantain seed | call to order 800.624.6429 |
| chen pi (chao) | Tangerine peel (fried) | call to order 800.624.6429 |
| chen pi | Tangerine peel matured | call to order 800.624.6429 |
| chi shao yao | Red Peony root | call to order 800.624.6429 |
| chuan bei mu | Fritillary bulb tendrilled | call to order 800.624.6429 |
| chuan lian zi | Melia / Pagoda tree fruit | call to order 800.624.6429 |
| chuan nui xi | Sichuan ox knee / Cyathulae root | call to order 800.624.6429 |
| chuan xin lian | Andrographis | call to order 800.624.6429 |
| chuan xiong | Ligusticum / Szechuan lovage rhizome | call to order 800.624.6429 |
| da huang | Rhubarb root | call to order 800.624.6429 |
| da qing ye | Woad leaf / Indigo | call to order 800.624.6429 |
| da zao | Jujube fruit / Chinese date (black) | call to order 800.624.6429 |
| dan dou chi | Prepared soybean | call to order 800.624.6429 |
| dan shen | Salvia root | call to order 800.624.6429 |
| dan zhu ye | Lophatherum stem and leaves | call to order 800.624.6429 |
| dang gui pian | Angelica sinensis, sliced | call to order 800.624.6429 |
| dang gui tootlet | | call to order 800.624.6429 |
| dang gui tou | Angelica sinensis, head | call to order 800.624.6429 |
| dang shen | Codonopsis root | call to order 800.624.6429 |
| deng xin cao | Rush pith | call to order 800.624.6429 |
| di gu pi | Wolfberry root / Lycium bark | call to order 800.624.6429 |
| di long | Earthworms / Lumbricus | call to order 800.624.6429 |
| di yu | Sanguisorba / Burnet-bloodwort root | call to order 800.624.6429 |
| dong kui zi | Musk mallow seeds / Abutilon seeds | call to order 800.624.6429 |
| du hou | Pubesecent Angelica root | call to order 800.624.6429 |
| du zhong | Eucommia | call to order 800.624.6429 |
| e jiao | Donkey hide gelatin | call to order 800.624.6429 |
| fang feng | Ledebouriella / Siler root | call to order 800.624.6429 |
| feng fang | Hornets Nest | call to order 800.624.6429 |
| feng hua fen | Bee Pollen | call to order 800.624.6429 |
| fu ling pi | Poria skin | call to order 800.624.6429 |
| fu ling pian | Poria, sliced | call to order 800.624.6429 |
| fu ling (fu shen) | Poria (poria spirit) | call to order 800.624.6429 |
| fu zi | Aconite / accessory root (prepared) | call to order 800.624.6429 |
| gan cao (zhi) | Licorice root (honey-coated)/ Glycyrrhiza | call to order 800.624.6429 |
| gan jiang | Ginger dried / Zingiberis | call to order 800.624.6429 |
| ge gen | Kudza root/ Pueraria | call to order 800.624.6429 |
| ge jie | Gecko | call to order 800.624.6429 |
| gou ji powder | Chain fern rhizome / Cibota | call to order 800.624.6429 |
| gou qi zi | Lycium berries | call to order 800.624.6429 |
| gou teng | Unicaria vine with hooks | call to order 800.624.6429 |
| gu sui bu | Drynaria rhizome | call to order 800.624.6429 |
| gua lou shi | Trichosanthes fruit | call to order 800.624.6429 |
| gui ban | fresh-water turtle shell / Testudinis | call to order 800.624.6429 |
| hai feng teng | Kadsura stem | call to order 800.624.6429 |
| hai zao | Seaweed / Sargassum | call to order 800.624.6429 |
| han fang ji | Stephania root | call to order 800.624.6429 |
| he shou wu | Polygonum | call to order 800.624.6429 |
| hei zhi ma | Sesame seed black | call to order 800.624.6429 |
| hong hua | Carthamus flower / safflower | call to order 800.624.6429 |
| hong zao | Jujube fruit / chinese date (red) | call to order 800.624.6429 |
| hou po | Magnolia bark | call to order 800.624.6429 |
| hu lu ba | Fenugreek seed | call to order 800.624.6429 |
| hu po | Amber | call to order 800.624.6429 |
| hua shi | Talcum, powder | call to order 800.624.6429 |
| huai hua | Pagoda tree flower / Sophora flower | call to order 800.624.6429 |
| huai niu xi | Achyranthes root | call to order 800.624.6429 |
| huang bai | Phellodendron / corktree bark | call to order 800.624.6429 |
| huang jing | Siberian Solomon Seal rhizome/ Polygonati | call to order 800.624.6429 |
| huang lian | Coptis / goldthread rhizome | call to order 800.624.6429 |
| huang qi | Astragalus root | call to order 800.624.6429 |
| huang qin | Scutellaria / skullcap root | call to order 800.624.6429 |
| huang yao zi | Dioscorea root | call to order 800.624.6429 |
| huo ma ren | Hemp seeds / Linum | call to order 800.624.6429 |
| huo xiang | Agastache / Patchouli / Pogostemon | call to order 800.624.6429 |
| jiang huang | Turmeric rhizome | call to order 800.624.6429 |
| jie geng | Platycodon/ balloon flower root | call to order 800.624.6429 |
| jin qian cao (concentrated) | Lysimachia | call to order 800.624.6429 |
| jin yin hua | Honeysuckle flower / Lonicera | call to order 800.624.6429 |
| jing jie | Schizonepeta stem & bud | call to order 800.624.6429 |
| ju hong pi | red part of a tangerine peel | call to order 800.624.6429 |
| ju hua | Chrysanthemum flower | call to order 800.624.6429 |
| jue ming zi | Cassia seed | call to order 800.624.6429 |
| ku shen | Sophora root | call to order 800.624.6429 |
| kuan dong hua | Coltsfoot Flower | call to order 800.624.6429 |
| kun bu | Kelp Thallus / Laminaria | call to order 800.624.6429 |
| lai fu zi | Radish seed | call to order 800.624.6429 |
| lian qiao | Forsythia fruit | call to order 800.624.6429 |
| lian zi | Lotus seed | call to order 800.624.6429 |
| ling zhi | Flying squirrel feces | call to order 800.624.6429 |
| long dan cao | Gentiana scabra root | call to order 800.624.6429 |
| long gu | Dragon's bone (prepared) | call to order 800.624.6429 |
| long kui | Herba Solani Nigri / Black nightshade | call to order 800.624.6429 |
| long yan rou | Logan fruit | call to order 800.624.6429 |
| lu gen | Phragmitis / Reed rhizome | call to order 800.624.6429 |
| lu jiao shuang | Deer antler powder, deglued | call to order 800.624.6429 |
| ma bian cao (concentrated) | Verbena | call to order 800.624.6429 |
| mai men dong | Ophiopogon tuber | call to order 800.624.6429 |
| mang xiao | Glauber's salt / mirabilite | call to order 800.624.6429 |
| mo yao | Myrrh | call to order 800.624.6429 |
| mu dan pi | Moutan / bark of Tree peony root | call to order 800.624.6429 |
| mu gua | Chaenomeles / chinese quince fruit | call to order 800.624.6429 |
| mu li | Oyster shell (raw) | call to order 800.624.6429 |
| mu tong | Akebia stem | call to order 800.624.6429 |
| mu xiang (tu) | Inula root | call to order 800.624.6429 |
| mu xiang* | Saussurea / auklandia / costus root | call to order 800.624.6429 |
| nan sha shen | Adenophora / Glehnia root | call to order 800.624.6429 |
| niu bang zi | Articum / burdock seed | call to order 800.624.6429 |
| nu zhen zi | Ligustrum | call to order 800.624.6429 |
| pi pa ye | Eriobotrya / Loquat leaf | call to order 800.624.6429 |
| pu gong ying | Dandelion | call to order 800.624.6429 |
| pu huang | Cattail pollen / Bulrush | call to order 800.624.6429 |
| qian hu | Peucedanum / hog fennel root | call to order 800.624.6429 |
| qiang huo | Notopterygium root | call to order 800.624.6429 |
| qin jiao | Gentiana macrophylla root | call to order 800.624.6429 |
| qin pi | Fraxinus / ash bark | call to order 800.624.6429 |
| qing huo | Artemisia | call to order 800.624.6429 |
| qing pi | Tangerine peel- green | call to order 800.624.6429 |
| qu mai | Dianthus | call to order 800.624.6429 |
| ren shen (kirin white) | White Ginseng Root | call to order 800.624.6429 |
| ren shen (red) | Red Ginseng Root | call to order 800.624.6429 |
| ren shen shi chu | Ginseng Red panax | call to order 800.624.6429 |
| rou cong rong | Cistanche herb | call to order 800.624.6429 |
| rou dou kou | Nutmeg seeds white | call to order 800.624.6429 |
| rou gui zhi | Cinnamon twig, sliced | call to order 800.624.6429 |
| rou qui pi | Cinnamon bark | call to order 800.624.6429 |
| ru xiang | Frankincense / boswellia | call to order 800.624.6429 |
| sang bai pi | Mulberry root-bark | call to order 800.624.6429 |
| sang ji sheng | Mulberry twig | call to order 800.624.6429 |
| sang piao xiao | Mantis | call to order 800.624.6429 |
| sang ye | White Mulberry Leaf | call to order 800.624.6429 |
| sang zhi | Mulbery vine | call to order 800.624.6429 |
| sha ren | Amonum fruit | call to order 800.624.6429 |
| shan ci gu | Vremastra / bulb of Chinese tulip | call to order 800.624.6429 |
| shan dou gen (concentrated) | Sophora root / Subprostrate | call to order 800.624.6429 |
| shan yao | Dioscorea / chinese yam root | call to order 800.624.6429 |
| shan zhu yu | Cornus fruit | call to order 800.624.6429 |
| she gan | Belamcanda rhizome | call to order 800.624.6429 |
| sheng di huang | Rehmannia root raw | call to order 800.624.6429 |
| sheng jiang pi | Zingiberis peel | call to order 800.624.6429 |
| sheng jiang (concentrated) | Ginger rhizome / Zingiberis | call to order 800.624.6429 |
| sheng ma | Cimicifuga | call to order 800.624.6429 |
| shi chang pu | Acorus | call to order 800.624.6429 |
| shi gao | Gypsum raw | call to order 800.624.6429 |
| shi jue ming | Abalone shell | call to order 800.624.6429 |
| shi shang bai | Selaginella | call to order 800.624.6429 |
| shi wei | Pyrrosia leaves | call to order 800.624.6429 |
| shu di huang | Rhemannia root prepared | call to order 800.624.6429 |
| shui niu jiao | Horn of water buffalo | call to order 800.624.6429 |
| song jie | Pine wood knotty | call to order 800.624.6429 |
| suo yang | Cynomorium stem | call to order 800.624.6429 |
| suan zao ren | Sour jujube seed | call to order 800.624.6429 |
| tai zi shen | Pseudostellaria | call to order 800.624.6429 |
| tao ren | Peach kernel | call to order 800.624.6429 |
| tian hua fen | Trichosanthes root | call to order 800.624.6429 |
| tian ma | Gastrodia rhizome | call to order 800.624.6429 |
| tian men dong | Asparagus tuber | call to order 800.624.6429 |
| tian san qi | Notoginseng root | call to order 800.624.6429 |
| tong cao | Tetrapanax / Rice paper pith | call to order 800.624.6429 |
| tu fu ling | Glabrous greenbrier rhizome / Smilax | call to order 800.624.6429 |
| tu si zi | Cuscuta / dodder seed | call to order 800.624.6429 |
| wu mei | Mume fruit | call to order 800.624.6429 |
| wei ling xian | Clematis root | call to order 800.624.6429 |
| wu jia pi powder | Acanthopanax root bark | call to order 800.624.6429 |
| wu wei zi | Schisandra fruit | call to order 800.624.6429 |
| wu yao | Lindera root | call to order 800.624.6429 |
| wu zhu yu | Evodia fruit | call to order 800.624.6429 |
| xi yang shen (concentrated) | American ginseng root | call to order 800.624.6429 |
| xia ku cao | Prunella | call to order 800.624.6429 |
| xian mao | Golden eye-grass rhizome / Curculigo | call to order 800.624.6429 |
| xiang fu zi | Nut-grass rhizome / cyperus | call to order 800.624.6429 |
| xiao hui xiang | Fennel fruit | call to order 800.624.6429 |
| xin yi hua | Magnolia flower | call to order 800.624.6429 |
| xing ren | Apricot kernel bitter | call to order 800.624.6429 |
| xu duan | Dipsacus Asper Root | call to order 800.624.6429 |
| xuan shen | Scrophularia root | call to order 800.624.6429 |
| xue jie | Dragon's blood | call to order 800.624.6429 |
| yan hu suo | Corydalis | call to order 800.624.6429 |
| ye jiao teng | Polygonum multiflorum vine | call to order 800.624.6429 |
| yi mu cao | Motherwort Chinese herb | call to order 800.624.6429 |
| yi yi ren | Coix / Job's tears seed | call to order 800.624.6429 |
| yi zhi ren | Alpinia / Black Cardamon fruit | call to order 800.624.6429 |
| yin yang huo (concentrated) | Aerial parts of epimedium | call to order 800.624.6429 |
| yu jin | Tumeric tuber / Curcuma | call to order 800.624.6429 |
| yu xing cao | Houttuynia | call to order 800.624.6429 |
| yuan zhi | Polygala root | call to order 800.624.6429 |
| zao jiao ci | Gleditsia (spine) / Honeylocust fruit | call to order 800.624.6429 |
| ze xie | Alisma / Water plantain rhizome | call to order 800.624.6429 |
| zhe bei mu powder | Thunberg fritillaria bulb | call to order 800.624.6429 |
| zhen zhu mu | Mother-of-pearl | call to order 800.624.6429 |
| zhi ke | Bitter orange fruit | call to order 800.624.6429 |
| zhi mu | Anemarrhena rhizome | call to order 800.624.6429 |
| zhi shi | Immature fruit of the bitter orange | call to order 800.624.6429 |
| zhi zi | Gardenia fruit | call to order 800.624.6429 |
| zhu ling | Polyporus sclerotium | call to order 800.624.6429 |
| zi hua di ding | Yedeon's Violet / Viola | call to order 800.624.6429 |
| zi su ye | Perilla leaf | call to order 800.624.6429 |
| zi wan | Aster root | call to order 800.624.6429 |