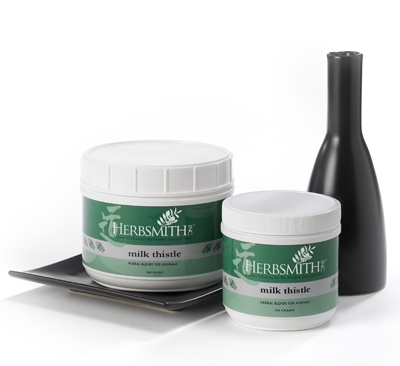 Organically grown and freshly ground, Herbsmith Milk Thistle is a natural alternative to support a healthy liver.
About
Herbsmith Milk Thistle supports healthy liver function. It's great for a dog with allergies, digestive issues, or to combat the negative side effects of the harsher alternatives.
The most active ingredient in milk thistle is silymarin, which has great antioxidant properties.
75 g powder
(One month supply*)
150 g powder
(Over two month supply*)
500 g powder
(Nearly eight month supply*)
*All supply estimates based on 30-80 lb dog.Note: Milk Thistle is half the daily dose of our other herbal blends.
Direction for Use
Powder
For Dogs:
<30 lbs……¼ tsp. twice a day
30-80 lbs…..½ tsp. twice a day
80-120 lbs…¾ tsp. twice a day
>120 lbs…..1 tsp. twice a day
For Cats:
⅛ tsp. twice a day
Cautions:Not to be used in pregnant pets. If animal's condition worsens or does not improve, stop product administration and consult your veterinarian. An examination from a veterinarian is recommended prior to using this product. Not for use within 48 hours of surgery/anesthesia.
Ingredients
Ground Milk Thistle (Supports healthy liver function)