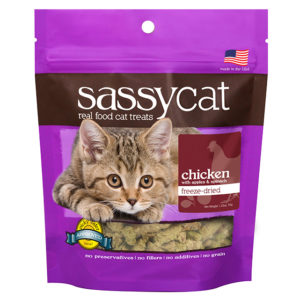 Herbsmith Sassy Cat treats are meat-based with balancing vegetables and fruits. We add no grains to replicate a more natural diet!
Sassy Cat treats are different. Made with no grain, fillers or artificial preservatives, Herbsmith's Sassy Cat treats help cats live naturally.
Cats are carnivores, designed to eat and digest meat with some vegetables and fruits and no grain. That's why Sassy Cat has real food treats made with simple basic ingredients based on a cat's optimal diet.
At Herbsmith, we feel that pets should not simply eat to live… they should eat to thrive! The right diet can bring your cat into a whole new state of health and wellness.
grain-free
no fillers, additives or artificial preservatives
sourced & made in the U.S.A.
Directions for use: Feed as a treat. (Please note there are NO herbs in Sassy Cat treats).
Freeze Dried Duck Treats (1.25 oz bags):
Cooling food energetics. Great for the allergic or anxious cat!
Ingredients: duck with oranges
Freeze Dried Chicken Treats (1.25 oz bags):
Warming food energetics. Great for the cat that needs added joint support!
Ingredients:chicken with apples & spinach
Freeze Dried Rabbit & Duck Treats (1.25 oz bags):
Cooling food energetics. Great for the allergic or anxious cat!
Ingredients: rabbit, duck, broccoli, cranberries
Freeze Dried Turkey Treats (1.25 oz bags):
Warming food energetics. Great for the cat that needs added joint support!
Ingredients: turkey, sweet potato, ginger
Freeze Dried Whitefish (1.25 oz bags):
Neutral food energetics. Great for any cat!
Ingredients: wild-caught whitefish
Freeze Dried Salmon (1.25 oz bags):
Neutral food energetics. Great for any cat!
Ingredients: wild-caught salmon