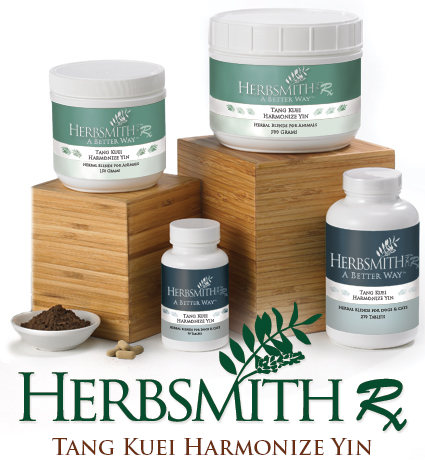 Herbsmith Rx Tang Kuei Harmonize Yin is recommended for yin deficiency of kidney and liver.
About
In veterinary practice, Tang Kuei Harmonize Yin is useful to assist in the management of older, yin deficient patients with dry, hacking cough, restlessness at night (the yin time of the day), dementia and senility, hyperthyroidism. Many other western defined disorders would be appropriate TCVM presentation.
Available In:
Powder
75 g Powder
150 g Powder
500 g Powder
900 g Powder
1200 g Powder
Chinese Theory
Yin deficiency is best seen as dryness, intolerance to heat and deficiency heat. Tang Kuei Harmonize Yin is a variation of the classic formula Rehmannia Six (liu wei di huang wan). This formula is used to aid in the management of kidney and liver yin deficiency as well as nourish and move blood.
Suggested Use
Powder
For Dogs:
<30 lbs……….½ tsp. twice a day, or as prescribed
30-80 lbs…….1 tsp. twice a day, or as prescribed
80-120 lbs…..1 ½ tsp. twice a day, or as prescribed
>120 lbs……..2 tsp. twice a day, or as prescribed
For Cats:
¼ tsp. twice a day, or as prescribed
Herbal Bites
For Dogs and Cats: Administer 1 disc per 15 lbs. twice daily
Ingredients
Cooked Rhemannia root (shu di huang)
Angelica Tang Kuei (dang gui tou)
Dioscorea (shan yao)
Eucommia Bark (du zhong)
Achyranthes Root (huai niu xi)
Honey Coated Licorice Root (gan cao)
Cornus fruit (shan zhu yu)
Inactive Ingredients in Herbal Bites Only: Duck