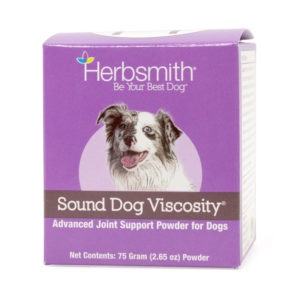 About
Sound Dog Viscosity is a glucosamine – based formula that aids in joint support by maintaining the normal viscosity of joint fluid. This formula also contains Chondroitin, MSM, Omega 3 sources and Herbs to better address all aspects of joint support, making it the most complete joint supplement available!
Ingredients
Inactive Ingredients (chews only): Brewers Yeast, Chicken Powdered, Cod Liver Oil, Dried Salmon, Flaxseed Meal, Glycerin, Lecithin, Oat Groats, Rice Bran, Rice Flour, Sorbic Acid, Triglycerides
Directions for Use
Small Chews
<10 lbs……..1 chew per day
10-19 lbs…..2 chews per day
20-30 lbs…..3 chews per day
Large Chews
<30 lbs……..1 chew per day
30-59 lbs…..2 chews per day
60-99 lbs…..3 chews per day
100+ lbs…….4 chews per day
Powders
<10 lbs…….¼ tsp
10-19 lbs…..½ tsp
20-29 lbs……1 tsp
30-59 lbs……2 tsp
60-99 lbs……3 tsp
>100 lbs……4 tsp
Cautions: Not for use in pregnant animals. Consult with your veterinarian before using this product in animals: with clotting disorders; being treated with anticoagulant medications; diabetes, or any metabolic disorder causing hyperglycemia; history of urinary tract stones; known allergies to shellfish; may be a GI irritant. If lameness worsens, discontinue use and contact your veterinarian. Administer during or after the animal has eaten to reduce incidence of gastrointestinal upset. An examination from a veterinarian is recommended prior to using this product. Not for use within 48 hours of surgery/anesthesia.
Available In
Small Chews
30 ct container
60 ct container
120 ct container
Large Chews
60 ct container
120 ct container
Powders
75g Powder
150g Powder
500g Powder
Ingredients:
| Ingredient | Action | Small (per 2 chews) | Large (per 2 chews) | Powder (per 2 tsp.) |
| --- | --- | --- | --- | --- |
| Glucosamine HCl | Promote thick and viscous joint fluid to absorb concussion within the body or joint | 250 mg | 1000 mg | 1000 mg |
| Hyaluronic Acid (HA) | Promote thick and viscous joint fluid to absorb concussion within the body or joint | 2.5 mg | 10 mg | 10 mg |
| Chondroitin Sulfate | Promote thick and viscous joint fluid to absorb concussion within the body or joint | 100mg | 400 mg | 400 mg |
| MSM | Manages aches and discomfort | 250 mg | 1000 mg | 1000 mg |
| Boswellia | Herbs to maintain joint, bone, and supporting soft tissue health while managing discomfort caused by normal, everyday activities. | 45 mg | 180 mg | 180 mg |
| Corydalis | Herbs to maintain joint, bone, and supporting soft tissue health while managing discomfort caused by normal, everyday activities. | 45 mg | 180 mg | 180 mg |
| Curcumin | Herbs to maintain joint, bone, and supporting soft tissue health while managing discomfort caused by normal, everyday activities. | 45 mg | 180 mg | 180 mg |
| Yucca | Herbs to maintain joint, bone, and supporting soft tissue health while managing discomfort caused by normal, everyday activities. | 45 mg | 180 mg | 180 mg |
| Flax Seed (Powders only) | Rich source of Omega 3's | 0 mg | 0 mg | 1830 mg |