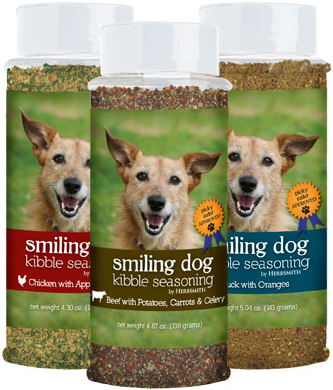 Perfect for even the pickiest eater, Smiling Dog Kibble Seasoning provides great flavor while adding a healthy protein source to any kibble. Sprinkle it over your pets' food and they'll be sure to smile!
Smiling Dog Kibble Seasonings are made purely of meat and biologically complementing fruits and vegetables to help dogs live the way they are supposed to live. The ingredients on the label say it all: only meat, vegetables and fruits!
simply sprinkle over kibble
made only of freeze-dried meat, fruits & veggies
grain-free
no fillers, additives or preservatives
sourced & made in the U.S.A.
Directions for use: Sprinkle gently over kibble. (Please note there are NO herbs in Smiling Dog Kibble Seasoning.)
Smiling Dog Duck Kibble Seasoning:
Cooling food energetics. Great for the allergic or anxious dog!
Ingredients: Freeze-dried duck with oranges
Smiling Dog Chicken Kibble Seasoning:
Warming food energetics. Great for the dog that needs added joint support!
Ingredients: Freeze-dried chicken with apples & spinach
Smiling Dog Beef Kibble Seasoning:
Neutral food energetics. Great for any dog!
Ingredients: Freeze-dried beef with potatoes, carrots & celery